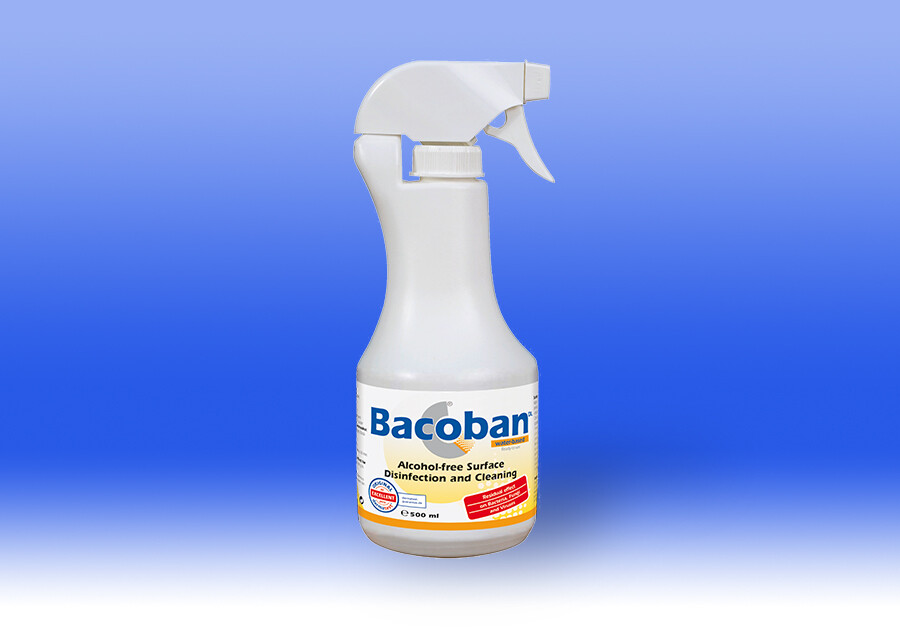 Bacoban Anti-microbial Spray 500ml (1 x 500ml Bottle)
SKU BAC-500-1
Product Details
Ready-to-use disinfectant product providing long term efficacy. Does not contain Aldehyde or Phenol.
Pump sprays are a very effective vehicle for delivering cleaning and disinfectant agents to contaminated surfaces.

The pump concentrates sprayed liquid on the surface allowing the solution to penetrate into crevices.
For areas demanding high standard, long-lasting hygiene: doctors' practices, hospitals, dentists, kitchens, crèches, public transport, retirement homes, schools, sport and other changing rooms.
Uses: For the disinfection of "medical" areas in accordance with Directive 93/42/EEC (Medical Devices) and all types of surfaces in hospitals, doctors practices, rehabilitation centres and retirement homes. Especially useful in areas demanding effective and longlasting hygiene. Particularly suitable for areas where unpleasant odours caused by micro-organisms form, such as toilets and sanitary facilities. Bacoban WB may be used in critical and sensitive areas of the pharmaceutical and cosmetic industries.
Composition: 100 g solution contains: benzalkonium chloride 0,26 g, sodium pyrithione 0,025g, polycondenstaes, perfume substances, purified water. No dilution necessary.

Save this product for later