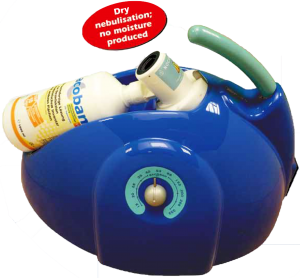 Bacoban Nebuliser – Price on Application
SKU BAC-NEB
Product Details
The Bacoban Nebuliser makes use of a heating and ionising turbine to nebulise the disinfectant verified as having long-term efficacy.
The Bacoban Nebuliser is highly effective in disinfecting manually hard to reach areas and surfaces.
Once the nebuliser is in action all surfaces in a room can be disinfected immediately with an invisible sponge-layer coating that continues to protect the surface for up to 5 days, destroying bacteria, viruses and fungi on adjacent surfaces.
The full disinfection of a room lasts just a matter of minutes making the nebuliser system a cost effective solution for large rooms.
Dry nebulisation
No moisture produced
No sensitive objects need to be moved
Uses: Bacoban® DL 3 % disinfection used to stop bacteria, certain viruses and fungi comprehensively and sustainably. Ready to use solution for disinfection and cleaning of medical fixtures and other surfaces (acc.Directive 93/42/EEC, MDD). Suitable for surfaces in clinics, doctors' surgeries, rehabilitation centres and residential homes. Particularly suitable for use in areas in which efficient and sustained hygiene is required. Also particularly suitable for areas in which unpleasant smells are generated by microorganisms, such as toilets and sanitary facilities. Bacoban® DL 3 % can also be used in critical and sensitive areas in the pharmaceutical and chemical industries.
3% ready-to-use solution precipitates evenly in densely cross-linking dry fog across every square centimetre of the room being treated.
Ideal for hospitals, clinics, doctors' surgeries, laboratories, ambulances, rescue services, retirement homes, rehabilitation centres, Thalasso therapy centres, saunas, spas and bathing facilities.
Save this product for later