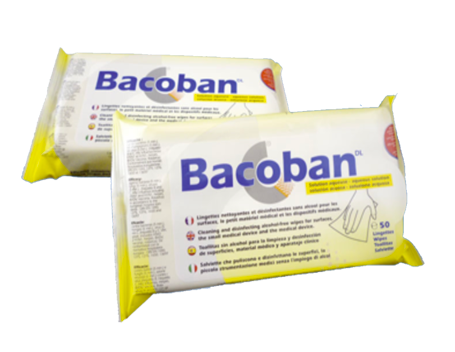 Bacoban Wipes (25 sheets)
SKU BAC-WIPE-25
Product Details
Based on the Bacoban DL formulation, the Bacoban wet wipes are in free flow packs of 25 sheets.
The wipes provide a quick and convenient method of cleaning down surfaces such as tables, treatment tables, handles, equipment surfaces and knobs, and surfaces that also have dust.
The resealable pack allows them to be conveniently located where surfaces need repeated Bacoban Technology Advantage:
This technology introduces the sol-gel process. On application, Bacoban develops an invisible sponge-like gel lining where the biocides that kill the germs are embedded. This ultra thin coating adheres to the surface and stays potent for a longer period of time even if the disinfectant has dried up. Since micro-organisms like bacteria, fungi viruses are always surrounded by hydro-shell they activate the biocides on contact, thus effective neutralization and eradicating the microbes.
Long Lasting Effectiveness and Protection:
Bacoban's water-based Technology assures potency to last for up to 240 hours or 10 days, longer than most disinfectants available today.
Professional Surface Disinfection, Hygiene Sanitation & infection Control.
Save this product for later