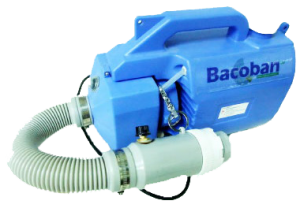 Cold Fogging Machine – Price on Application
SKU BAC-FOG-ULV-1
Product Details
Cold Fogging machine offers highly effective disinfection for hard to reach areas and surfaces using Bacoban's Water based disinfectant that is verified as having long-term efficacy.
Lightweight, portable, fogging machine with shoulder strap.
Adjustable mist/particle size.
Adjustable spray angle/distance.
Self-locking spray head prevents leakage.
High power motor.
Durable polymer body.
Save this product for later